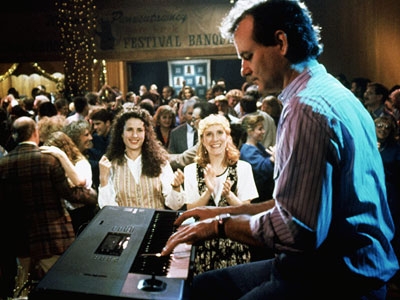 75. BILL MURRAY
Groundhog Day (1993)
We always knew Murray could make us laugh, but in Groundhog Day he does it all: He plays the piano, he saves lives, he learns how to ice-sculpt...of course, he has a bit of time on his hands to do all these things, what with repeatedly reliving the same day. No other actor could convey Murray's mix of dread and delight at such a plight.
74. MAUREEN O'HARA
The Quiet Man (1952)
It takes a dedicated actress to let herself be dragged through manure. But wild Irish rose O'Hara threw herself completely into John Ford's windswept epic of troubled love on the Emerald Isle. As the feisty Mary Kate Danaher, known for ''her freckles and her temper,'' O'Hara passionately commands the screen opposite John Wayne...even when he's pulling her across hills rolling with sheep dung.
73. ALFRE WOODARD
Crooklyn (1994)
If anyone could make you eat your black-eyed peas, it's Woodard. As the tough and loving matriarch of a 1970s Brooklynite clan, Woodard nails the complex, maddening duality of motherhood. One minute she's hollering at five rambunctious kids, the next she's engaging her daughter in a heart-to-heart. When Woodard's character succumbs to cancer, we feel the heartbreak as our own.
72. NAOMI WATTS
Mulholland Drive (2001)
In David Lynch's dizzying puzzlebox of a movie, Naomi Watts dazzles in two roles — well, at least two. There's Betty, the chirpy, optimistic, Girl Scout-ish Hollywood newcomer, and there's Diane, the bitter Tinseltown failure who apparently dreams up Betty in an act of wishful thinking as an idealized version of herself. And then there's the character Betty plays in a movie audition. We see Betty rehearse the scene, a run-of-the-mill romantic exchange. And then we see her play it at the reading, where she suddenly opens up and transforms the scene into something real and alive, a desperate, erotic moment of dangerous honesty. In that moment, you can actually see a star being born — not just Betty, but Watts herself.
71. ROBERT WALKER
Strangers on a Train (1951)
What an epitaph: Walker died suddenly, at age 32, the year Strangers was released, after a history of emotional problems. He'd played chipper types credibly, but never as wittily or well as he played Bruno Antony, an unstable, petulant, unmistakably gay psychopath who stalks a tennis pro and murders his wife, then demands that the man commit a reciprocal killing. Peak moment: A kiddie gets in his way, so Walker pops his balloon.
70. VINCENT D'ONOFRIO
Full Metal Jacket (1987)
Not only did D'Onofrio pack on 60 pounds to fill out Private Pyle's XXL fatigues, he also managed to act. As the doughnut-hoarding dolt driven machine-mad by Marine boot camp, the big-screen neophyte instantly became Kubrick's most haunting zombie and, for better or worse, forever spoils Jacket's Vietnam-based second half.
69. FALCONETTI
The Passion of Joan of Arc (1928)
Shot mostly in claustrophobic close-ups, her face stripped of makeup and her hair lopped off, French theater star Renee Falconetti's Joan — alternately naive, beatific, and palpably frightened as the tormented martyr — is possibly the most harrowing depiction of a human being under extreme duress ever. And remember, this power is achieved without the benefit of sound.
68. RICHARD PRYOR
Blue Collar (1978)
There's nothing funny about the comedian's work as auto-factory clock puncher Zeke Brown — and that's the point. Instead, he engages in Pryor restraint, allowing his anger to simmer as Zeke gets shafted by management, his union, and Uncle Sam. ''He was the unhappiest person I ever met,'' director Paul Schrader recalls on a commentary, but Pryor channels his sadness into a haunting turn that hints at his dramatic potential.
67. BUSTER KEATON
The General (1927)
Oscar's very first missed opportunity came in year 1 of the awards, when they deemed this silent comedy classic ineligible. Jackie Chan ain't got nuthin' on the Great Stone Face, who does all his own eye-popping stunts as a nebbishy Civil War engineer who single-handedly takes on the Union army. Even though he's playing a Reb (and the movie's essentially a 75-minute chase scene), the profoundly human Keaton makes you care about the character's fate.
66. TONY CURTIS
Sweet Smell of Success (1957)
That's not success emanating from Sidney Falco: It's the unmistakable stench of desperation. He's a little fish who's dying to swim with the sharks — namely, power-mad gossip columnist J.J. Hunsecker (Burt Lancaster). Curtis makes Sidney's naked ambition so tangible you can almost feel his clammy palms, and it's Curtis' unsentimental, caffeinated study in amorality that gives Sweet Smell its potent, bitter aftertaste.
65. ALAN RICKMAN
Die Hard (1988)
The great American movie villains are usually British or German, so it only fits that the go-go '80s bad-guy archetype was a German played by a Brit. Maybe it's the ruthless intelligence that a German accent implies, or the regal, holier-than-thou British demeanor, but whatever it is, Rickman's Hans Gruber had it in spades. Gruber was that urbane criminal mastermind we all wish truly existed nowadays: the psycho terrorist who's really just a psycho thief.
64. JEAN-PIERRE LEAUD
The 400 Blows (1959)
Leaud rarely smiles in Francois Truffaut's heartbreaking milestone, but when he does, it's startling — a rare moment of color in the all-gray tones of adolescent frustration. As a 12-year-old schoolboy at odds with his distant parents and teachers, he inhabits the role with the wisdom — and self-defeating sadness — of an actor twice his age. He skillfully conveys the aching desperation that fuels his instinctive need to run free.
63. ALEC GUINNESS
Kind Hearts and Coronets (1950)
Throughout his career, Sir Alec epitomized the actor as chameleon, seemingly morphing from movie to movie. But in this deceptively genteel comedy, he performs the feat repeatedly, playing eight members of a haughty aristocratic clan, all deliciously doomed to be murdered. From the doddering bank president to the old-maid suffragette, each is a distinctively silly caricature. Together, they're a virtuosic tour de force.
62. JOHNNY DEPP
Ed Wood (1994)
It's just the sort of role that most actors would vamp-and-camp to the extreme: Ed Wood, the cross-dressing, schlock-serving '50s filmmaker/punchline who was at his most comfortable wearing heels. But as the cult ringleader, an admirably restrained Depp is wide-eyed and wistful — the anchor of naive ambition in a sea of kitsch. It's the most well-adjusted weirdo of his career.
61. EWAN McGREGOR
Moulin Rouge (2001)
Falling in love may be hard to do, but it's even harder to do on screen. So why do we buy the doomed romance between McGregor's scribe and Nicole Kidman's courtesan? One word: abandon. Even though Kidman caught Oscar's eye, his is the stronger voice, his is the grander journey, and his is the heavier burden. He has to be a man who could steal the sparkling diamond's heart, and then risk his own.
60. SISSY SPACEK
Badlands (1973)
Nearly a decade older than her teenage character and three years before her first nomination (for Carrie), Spacek gave filmgoers the first taste of the fine actress she'd become as Holly, a ripening strawberry blonde who — out of sheer boredom — accompanies her sociopathic boyfriend (Martin Sheen) on a killing spree across the Midwest. With her unembroidered performance, Spacek sketches a freckle-faced portrait of the American nightmare.
59. ROBERT MITCHUM
The Night of the Hunter (1955)
In preaching ''the religion the Almighty and me worked out betwixt us,'' Harry Powell uses his left hand (marked H-A-T-E) and his right (L-O-V-E) to enact the wrestling match of good and evil. Is he an Old Testament prophet? A pagan angel? A crazy? Just a con? Mitchum deploys his natural cool to play an opaque soul with a transfixingly perverse way with a switchblade — a perfect freak.
58. CHER
Mask (1985)
Still revved from her nominated turn in 1983's Silkwood, Cher roared onto screens as Rusty Dennis, a motorcycle mama who cares only about ''getting loaded and laid.'' But, in truth, all her tenacious character really cares about — as reflected in Cher's fierce and complex performance, which may have suffered at Oscar nomination time due to director Peter Bogdanovich's fight with distributor Universal — is protecting her sweet, damaged bond with her sweet, damaged boy.
57. ERROL FLYNN
Gentleman Jim (1942)
Flynn made his name as a man of action, but in his performance as boxer ''Gentleman Jim'' Corbett, the fight scenes are the least impressive of his achievements. Playing Corbett as a cocky, rollicking rogue, Flynn displays the touch of an accomplished comedian: Between rounds of a championship bout, the first thing Jim does is motion to his trainer to unmuss his hair. It's a throwaway bit that both defines the performance and exemplifies Flynn's nonchalant savoir faire.
56. MARLENE DIETRICH
Witness for the Prosecution (1957)
More than 20 years past her movie-goddess peak, Dietrich still had her aristocratic elegance, spectacular cheekbones, and million-dollar legs. In the course of essaying the role of a murder suspect's wife, you can see the movie star transform herself into a character actress. She starts out frostily imperious, ends up emotionally destroyed, and somewhere in between pops up disguised as a Cockney-accented harpy. Charles Laughton doesn't recognize her. Neither do we.
55. PETER SELLERS
The Pink Panther (1964)
In 1965, Sellers earned an Oscar nomination for his triple play in Dr. Strangelove. So it's understandable — but still unfortunate — that he went unnominated for the role that enshrined him forever as the Fred Astaire of slapstick: Inspector Jacques Clouseau. With objects as ordinary as a doorknob and a glass of warm milk, Sellers created a matchless choreography of Continental buffoonery — nothing is deliberate or anticipated, and every gag sticks.
54. BORIS KARLOFF
Frankenstein (1931)
Grunting and moaning your way through a movie is anything but a sure ticket to cinema immortality. (One word: Nell.) Now add to that the pressure of creating one of the most pitiable and ambiguous villains in all of literature — using only the most minute changes in facial expression — and you'll have some idea of Karloff's monstrously iconic achievement.
53. GENE WILDER
Young Frankenstein (1974)
In action, Wilder always looks more like a crazed, off-the-reservation Muppet than an actor of flesh and blood. And nowhere are his unique gifts better showcased than in Mel Brooks' loving monster-flick spoof: Leaping from silky-voiced humility to strident megalomania before you can say ''Frahnk-uhn-shteen,'' Wilder's mad doctor helped invent a kind of bipolar comic acting that's been pilfered by everyone from Adam Sandler to Mel Gibson.
52. DYLAN BAKER
Happiness (1998)
Lots of actors get commended for their ''bravery'' in taking certain roles: Baker's stunning work as a suburban dad who drugs his 11-year-old son's classmate with a contaminated tuna sandwich so he can rape him is one of the few examples that took genuine courage. Look deeply into Baker's expressive eyes — faced with the daunting task of humanizing the outwardly ''normal'' yet disturbed Dr. Maplewood, he at once captures his character's unspeakable sickness and immeasurable guilt.
51. ED HARRIS
The Right Stuff (1983)
As American hero John Glenn, Harris had the biggest space suit to fill in Philip Kaufman's astronaut epic. He pushed the envelope and acquitted himself brilliantly, adding true humanity to a larger-than-life role — a skill that's become his good-guy trademark ever since. Not to mention the fact that for once in his career Harris had the perfect hairdo for the job.